Triple Berry Shortcake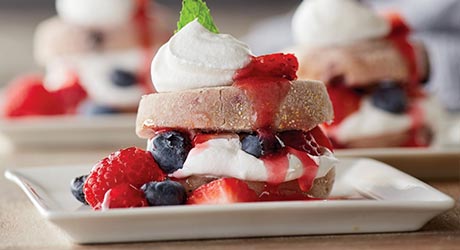 directions
Stem and quarter strawberries
Add 2-3 Tbs. sugar
Mix and put in refrigerator for about ½ hour until juice develops.
Whip cream with 2-3 Tbs. sugar to taste and 1 tsp. vanilla
Split English Muffins and lightly butter. Place on baking sheet and broil on middles rack of oven until just warm
Spoon strawberries mixture over muffin halves. Add a dollop of cream, blueberries, and raspberries and place muffin halves on top of fruit
Drizzle with juice from strawberries top with cream.
Garnish with fresh mint or grated lemon zest.
Cranberry Citrus Mini Apple Streusel English Muffins
ingredients
½ cup milk
2 eggs
2 Tbs. sugar (muffin base)
¼ tsp. vanilla
1 tsp. cinnamon (muffin base)
2 cups granny smith apples (about 2 medium apples) peeled, cored and chopped in ½" chunks
4 Tbs. sugar (filling)
1½ Tbs. flour
½ tsp. cinnamon (filling)
1Tbs. lemon juice
½ cup flour
⅓ cup brown sugar
½ tsp. cinnamon
¼ cup cold butter
directions
Whisk milk, eggs, sugar, vanilla and cinnamon together, pour into shallow pan and place 6 split Cranberry Citrus Mini Muffins in batter rotating occasionally. Soak for ½ hour.
Butter a standard muffin tin (2"base)
Filling:
Mix apples, sugar, flour, cinnamon and lemon juice in bowl and set aside.
Streusel Topping:
Place all dry ingredients in bowl with a rounded base and cut in the butter with a pastry cutter until like small peas.
Press soaked muffins outside down in muffin tin base. Top with a small scoop of apple filling about 1/8 cup and press down slightly. Top with streusel mixture and press slightly into apple filling.
Bake 350* for 40 minutes. Let sit for about 10 minutes in pan and run knife around edges to remove from pan.
Serving Suggestion: Top with ice cream or sweetened whip cream